Hazara Asylum Seekers
April 20, 2015 | theguardian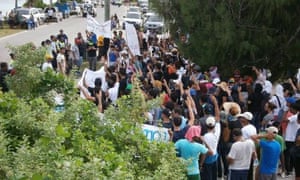 Refugees on Nauru protesting in early March over conditions and the Cambodia deal.
Spokesman for Cambodia's interior ministry says a delegation left for Nauru on Monday but 'we don't know anyone who volunteered so far'
Cambodian officials have confirmed they are sending a delegation to Nauru to discuss settlement plans, but have said no arrivals were imminent from the island, contradicting comments by Australia's immigration minister, Peter Dutton.
Last week letters were distributed by Australian immigration staff to refugees on Nauru offering them a settlement package in Cambodia. A spokesman for the International Organisation for Migration has confirmed it was sending an official in anticipation of movements.
Small protests have also occurred in the refugee community living on Nauru surrounding the Cambodia arrangement. One 12-year-old boy also attempted to throw himself into the ocean in an apparent attempt to self-harm.
While the transfer of refugees…
View original post 301 more words